Posted: Thursday 17th of January 2013
Cross Domain Comment Post and Display using Ajax, Jquery and PHP
This tutorial teaches you how to create a Cross Domain POST or GET Request between two different servers using Ajax, Jquery and CURL PHP.
The system establishes a connection between two different servers from where communication process takes place.
This system is designed to be used on two different servers although you can and may still use it on one server if you wish.
To install the system on your server, please download the zipped folder containing the required files for this system and extract or unzip the folder to your computer system.
Open the file named README.txt which is in the extracted folder and follow the steps given in that file.
If you want to test or demo the system using your Server and Vasplus Programming Blog Server then, ignore the installation information given above and only open the file named
configuration.php
and insert the following URL: http://www.vasplus.info/demos/cross_domain_post_using_ajax_query_and_php/vpb_receiving_server.php, save the conguration file and upload the entire content of the downloaded directory to your server to start using the system on our server.
Any comment posted with the above Vasplus Programming Blog URL in the configuration file goes to Vasplus Programming Blog Database while the comments are displayed on your server
To see the system in action, please click on the demo button below and download the script if you like what you see.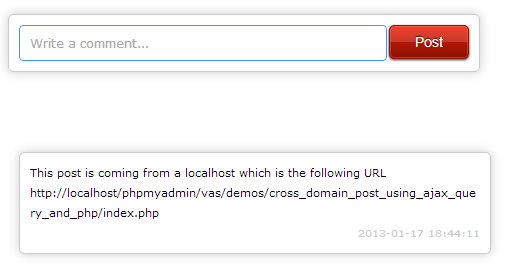 That's it guys...