Posted: Tuesday 1st of January 2013
Fancy Radio Button Switch using Jquery and CSS
This tutorial teaches you how to create a simple and nice looking switch that triggers two radio buttons within a div.
If JavaScript is disabled on a user's browser, the script will just display the two radio buttons with their labels.
This is a very simple to understand tutorial as you do not need to configure any thing with very few lines of code.
To install the system on your server, just download the zipped folder containing the required files, upload and extract it to your server, view the folder via your web browser and you are done.
To see the script in action, please click on the demo button below and download if you like what you see.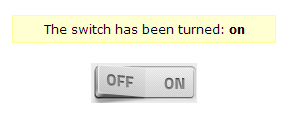 That's it guys...